Shop by Brand
Delivery
Shop by Comfort Level
Customer Favorites
Bedroom Pictures
Mattress Accessories
Shop by Tailoring
Shop by Type
Shop by Price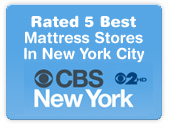 We Try Hard To Please
Craig's Beds is a family owned and operated authorized mattress dealer. We carry only name brand mattresses with solid track records. Our corporate office is centrally located in NYC NY with warehouses located in NY, NJ and DE positioning us well to service our customers delivery needs in the metro area and nationally with nationwide shipping. Why is being an authorized dealer important? It guarantees that you are purchasing a brand new mattress with a manufacturers warrantee. Warrantees are only valid from purchases from authorized dealers.
Servicing patrons who are looking to purchase a quality mattress at the right price with a dependable company behind it's product. We will work hard to earn your trust and business.
Call or Email Us If You See Our Mattresses For Less Elsewhere
At Craig's Beds we do our best to offer our customers great mattresses at competitive prices with dependable service that you can rely on all year long. If you see a mattress with the same details by the same manufacturer that is lower in price let us know and we'll do our best to beat it. We'll try hard taking into account that the other store is a stand up organization with similar store policies.
We Are Upfront
Please note that most of the pertinent information like return policies and contact information is located in our main nav bar for all to see. Some stores try to make it hard for customers to find while we believe strongly in making this information simple to view so that you the consumer can make an informed and educated purchasing decision. If you have any questions or concerns simply call us at 1-877-441-2337 or email us at info@craigsbeds.com.
If There is a Problem We Want To Know
At Craig's Beds we like to believe that we represent the best products the mattress industry has to offer, but no company is perfect so if you're having a problem with your mattress and you believe the manufacturer is not properly honoring their warrantee contact us and we will intercede to try resolve your issues.
Why Sell Mattresses?
For starters most mattresses are made here in the USA providing 1,000's of desperately needed jobs in this country. Mattresses are a simple yet very important product. They are used for sleeping and are a place where we are reborn every night. Meaning that to reach our goals during the day we need rest mentally and physically at night. You even lose weight while you sleep and proper sleeping habits are important for any diet or healthy regimen. A comfortable supportive mattress to sleep on at night is critically important to living to your full potential during the day.
Our Mantra "Reach for the Stars"
Personally I would of probably liked to have been an NBA player dunking Baskets or a Boxer that comes from behind to win a match, or a baseball player hitting a walk off home run in the 9th inning or even an astronaut:). But genetically like many of you I was not born with the physical gifts that are required for the above careers. But that does not mean that we can't find something else that we can pour our competitive spirits into and make a difference out there. For us this business is something that we can pour our completive drive into, whether it is working to improve our customer service, logistics, website, showroom marketing etc. Our goal is to make this one of the best shopping experiences for our customers and also make it fun for the customers and for us as well.
Reach for the Stars! Do your best to fight for what you believe in and don't ever be afraid to fail. Some of the best success stories were from accidental failures or from failing and finding something that works well during the journey of reaching your goals. Most importantly Sleep well to recover at night for your next day's journey:)
Warmest Regards,
Craig And The Rest Of The Craig's Beds Team