Shop by Brand
Delivery
Shop by Comfort Level
Customer Favorites
Bedroom Pictures
Mattress Accessories
Shop by Tailoring
Shop by Type
Shop by Price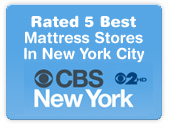 We value our customers and their privacy. All personal information is used to ensure efficient processing of your order. This information is used by our staff for contacting and identifying customers and their needs. We will not give, sell, rent, or loan any personally identifiable information to any third party, unless we are legally required to do so or you authorize us to do so.
Information Collection & Use:
Our site's registration form requires users to give us contact information (like their name and email address). The customer's contact information is used to contact the visitor in the event of a problem when processing an order. For example, problems with credit card verification, product availability, etc. Users have a choice of receiving future mailings during the registration process.
Our site uses an order form for customers to request information, products, and services. We collect visitor's contact information (like their email address), and financial information (like their account or credit card numbers). The customer's contact information is used to get in touch with the visitor when necessary. i.e, in the event there is a problem processing an order, corporate changes, or changes in privacy practices. Financial information that is collected is used to bill the user for products and services. The customer ID numbers are assigned to Web site visitors to verify the user's identity and for use as account numbers in our record system.
Security:
This website takes every precaution to protect our users' information. When users submit sensitive information via the website, your information is protected both online and off-line. When our registration/order form asks users to enter sensitive information (such as credit card number), that information is encrypted and protected. While on a secure page, such as our order form, the lock icon on the bottom of Web browsers such as Netscape Navigator and Microsoft Internet Explorer becomes locked, as opposed to un-locked, or open, when you are just "surfing".
If you have any questions about the security at our web site, please send an e-mail to info@craigsbeds.com.
The products and content contained in this web site have been carefully checked for accuracy; however, all content and product is provided without any express or implied warranties. Neither Jens Beds, Inc. or its affiliates assumes responsibility for any errors or omissions in the material. In no event shall Craig's Beds, Inc. or its affiliates be liable for any indirect or consequential damages resulting from any use or performance or errors or omissions in the site content, even if notified in advance of the potential for such damages. All users of the site agree that access to and use of the material is subject to the terms and conditions stated in this legal notice, as well as all applicable laws, and such access and use is at the user's own risk. Terms and conditions are subject to change from time to time without notice by updating or revising this legal notice.